Isme Action Hai, Bhai Hai, Badle Ki Bhawna Hai, Romance Hai
Aur Panther Hee Stong Nahi, Very Strong Women Bhi Hai!
3 and 1/2 Ninja Stars
Mini Review:
This film is awesome, book tickets now!
Main Review:
The new Avenger has a fabulous back story. The country called Wakanda hides a terrific secret. The Women are all AWESOME! And yes, they have Black Panther protecting them from harm. There is a murder in the past, and Indians will recognise the tale from the Mahabharata. Cousins fighting each other. Woah! But this tale is amazing not just for that reason, but because the women play such a brilliant role. Ladies and gentlemen, presenting: DANAI GURIRA who plays General Okoye, and her all female warriors: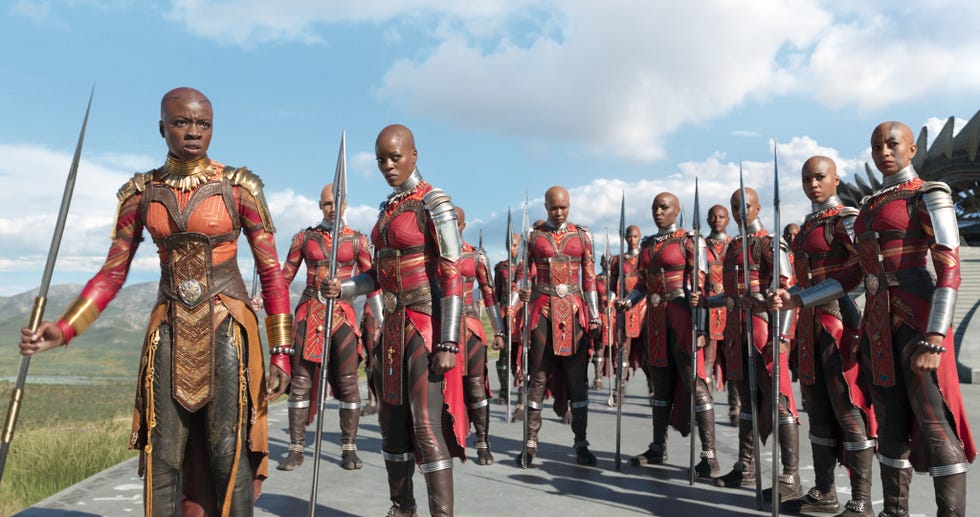 There's a technology wizard in Wakanda who is a girl! She's the one behind all the marvels that Wakanda has. She knows how to heal spines, and also transport Vibranium safely. This is princess Shuri played wonderfully, playfully by Letitia Wright who gets the better of her hero brother, the Black Panther (Chadwick Boseman). The gorgeous Angela Bassett is the Queen Mother and she is beautifully dignified. Lupita Nyong'o plays the woman who makes the Black Panther freeze...
The central conflict is about 'what should a King be like' is wonderfully presented in all its angles. The hatred of the brother who grows up fatherless is as good as the lad who grew up in privilege who learns that his father may have made mistakes...
The film has great one liners that make you smile. The film has superb action sequences in Korea and back home in Wakanda. The film has a screenplay that does not pause. Not even for a minute. You watch it in IMAX 3D with awe.
Then you come away wishing there are separate movies for Princess Shuri and General Okoye.
(image via: https://hips.hearstapps.com/ thank you!)